Click on a photo to see a larger picture of the project. Click on a pattern cover to view more information.
Fall Inspiration
Originally published 10/13/2020, via email
Do you have your Halloween projects on display?
Kathie sent us this great version of BQ5. She put extra borders on the 12 – 18" block project to make it large enough for her very tall grandson. 65"x78". The checkerboard border is perfect for a race car quilt!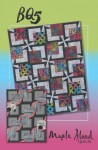 BQ5 MIQ825
A donation idea for you! We gave a dozen Tripster bags to a friend's church group that supports women in transition from homeless to a better life. They will be filled with personal care products and treats. A beautiful way to share your work.
I have continued my quest to clean out my studio and I know that many of you have been doing the same thing. I am sharing some of the treasures I have found before I re-home them!
These are Eureka projects. If you already have the pattern, these are both custom sized….larger than the pattern. 46" x 66". They used 12 fabrics and the length of the rows was increased. I used the same cut sized segments as the pattern calls for, just made more segments. Controlled inventive I would call it. You can see that the quilts have not been bound!
If you are a collector of Australian fabrics you might consider Spark for a project that will show off the fabric. The pattern includes the instructions for making quilts or duvet covers. 54"x 66".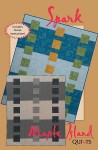 Spark MIQ454
So many of you have the Dancing Quilts from Straight Pieces book. This project was not in the book. It uses a larger jitterbug block. 58" x 74". The colors are great for fall and maybe will inspire a new palette for your next project.
We have a few copies of the book remaining…they are on the sale page.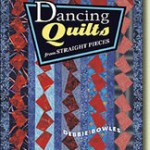 Dancing Quilts MIQ DQ
Bold stacks of color and assorted background for this version of Stackables 1. 48"x66".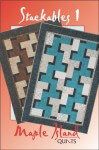 Stackables 1 MIQ 349
Patti created this great sunflower BQ4 quilt. We made a terrible mistake last month and gave the maker's wrong name. Our apologies to Patti!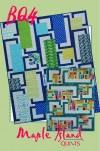 BQ4 MIQ457
Doesn't this Turnabout look great with a bouquet of color! My friend Jan picked this quilt for her house a few years ago. 30"x 30". Small wall quilts can be great on a table.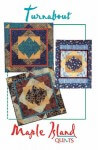 Turnabout MIQ542
We have patterns on sale at the website. Hover over the MIQ patterns button and at the bottom of the list, click on sale. We are continuing our cleaning in the warehouse also!
Thanks for your continued support of our patterns and your local quilt shop or favorite on line space. We appreciate you every day.
I hope you have found ways to connect with your special people.
Stay healthy in the weeks ahead and enjoy Halloween,
Debbie
Maple Island Quilts