Dynamic borders for special fabrics.
Diva4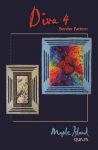 Sleek lines with a tiny accent will showcase the center of your project. Elegant and dramatic, this border will keep the focus on the center. As the lines get longer toward the outside edge, the corners take on a perspective of distance. Looks great with horizontal panels also.  Panels 24"x 44", 36"x 44" or yardage.  The quilts finish at 38"x 58" or 50"x 58".
Cool Corners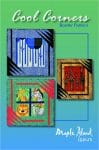 A border pattern with paper pieced corners that add a dramatic look to any center 16 ½" -20 ½" x 20 ½". Use special fabric or part of a panel for the center. 3 border versions and 2 sizes of each version. Projects finish 28"-32" x 32". Bonus placemat instructions 13 ½" x 19 ½". Table mat and runner ideas.
Paper piecing experience assumed. Consumer draws the foundation; see supply list.
Diva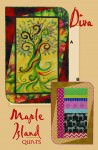 A dramatic and bold border pattern for a panel (24" x 44") or a ½ yd cut of something special. The pattern includes cutting for panels that don't quite square up to the size given. The long skinny angled cut is easy to do and the rounded corners add a surprising finish to the edges.
Nearly everyone owns a piece of diva fabric-very special and wants to stand alone but needs a bit of support to finish strong.
35" x 52" or 35" x 54".
Diva2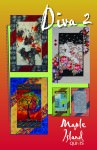 More bold drama to showcase panels (24" x 44") or yardage. Many of the panels available are so stunning you only need to support the panel with a simple frame. We've added a bold diagonal to catch the eye but Diva 2 lets the panel do the talking.
You will find it easy to customize for your diva fabric in one of the three versions included.
The finished size of your project will be 34 - 37" x 53 - 55".
Diva3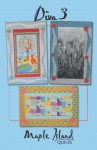 Create a fun border for panels or yardage using our Inventive Curved Cutting technique. This is rotary cut and machine stitched …a freehand cut that swoops and undulates, framing the center but not overwhelming.
The pattern includes a Tutorial page to walk you through the technique and give you the confidence to become a quilter with curves. Centers are panels 24" x 44" or yardage of ½ yd. and ¼ yd.
3 different border looks that all finish 34-35" x 51-54".
Baby Grand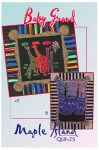 Combine a slender curve with straight lines to create an eye catching border for a batik panel as shown or any other special center. Learn a new variation of the Cutting curves technique; inventive rotary cut and machine stitched curves that are achievable for most skill levels. The borders work for multi sized centers: small to 18" x 18" up to 20" x 30". Pieces finish 10" larger than the panel sizes and make stunning wall pieces or pillow tops. The fabric requirements will make 100" of 5" borders. Use a printed stripe or a pieced stripe.
Over & Under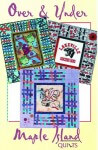 Weave raw edge strips onto a fabric base for a border that is as fun to look at as it is to do. After weaving, stitch the strips with fancy threads or decorative stitching and finish with buttons, trims or any embellishment that you can think of. Two center sizes are perfect for showcasing great fabric, orphan quilt blocks, an embellished project or even a T-shirt.
26" x 26" or 28" x 34".
Item: MIQ656
Spotlight Pattern
Price: $9.50 $3.00