Large or small, we love our bags!
Wallet & Grommet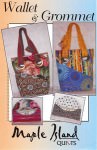 A smaller bag for around town with a simple envelope style wallet for small items. The wallet is also perfect as an envelope for gift cards. The large snap together grommets add a trendy detail. Carry with double handles or over the shoulder one strap.
Bag 10" x 11" x 3 ½" flat bottom. Wallet: 8" x 3 ¼".
Kard Keeper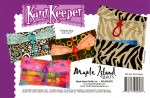 Where do you carry all those extra cards – loyalty shopping cards, gift cards and others? Mine were either on my desk at home (forgotten) or in the bottom of my bag wrapped in a large purple rubber band. The Kard Keeper is stylish storage for those extra cards. It is a little fabric pocket secured with a hair elastic. Fun to do with a tiny bit of fabric and perfect for gift giving. You can jazz them up with beads, crystals, baby ric rac or fancy stitching and trim the edges with a specialty rotary blade or pinking shears.  As a mother of boys, I had no idea there were so many fun ways to secure hair or the Kard Keeper! With a small pleat on the bottom the Kard Keeper can expand to hold up to 30 cards.  The pattern is a jumbo postcard, pictures on one side and instructions on the back side.
Finished size about 2 ¾" x 4 ¾".
Bagavond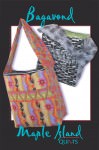 I do quite a few one night stays visiting with my Mom and other friends and wanted a bag big enough to hold what I need for just one night.  Because I always have work with me, it will hold your electronics or file folders. The bag has extra large outside pockets and inside pockets that are shallow for the phone charger or other small things. You can use 4 fabrics as shown on the cover or mix it up and use up to 7 fabrics (see gallery).
The bag is 14" wide, 16" tall and 7" deep with a fun extra wide handle that is pleated to fit on your shoulder as you go from the car to your destination.
Have a good trip!
Destination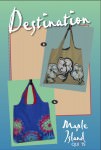 You can look good with your goods wherever you go with Destination. Use a denim or canvas weight 54" wide fabric for this one piece bag & handle and fuse some fun onto the bag surface! We like Crossroads Denim for the beautiful colors and very sew able feel. The denim has been pre-washed so there are no surprises later. The paper pattern is full size for quick and easy cutting.
The bag has a simple facing for the handles; no lining because the denim looks good on both sides and we used French seams (explained in the pattern) for the side seams to enclose the raw edges. Indulge your love of color as you choose something fun to fuse onto the bag.
The bag is 24" from the handle to 1 ½" flat bottom and 18 ½" wide. You'll need 2/3 yd. of 54" denim or home décor weight fabric, ½ yd. of cotton for the facing and a piece of something that you can fussy cut and fuse onto the bag.
It's the perfect gift for many – embellish with your friend's favorite flowers or use theme fabrics for something very special.
Tripster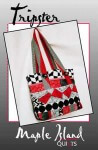 A generous quilted tote bag with many options for finishing and decorating. You will piece an inventive rotary cut and machine stitched curve for the handles with my achievable curve technique and create a focal band of odd shapes that will dance across the bag using one of my fun dancing techniques. Finish the bag with a turn down lining, load it up and off you go.
Flat bottom 14" x 14" x 5" or envelope style 19" x 17".