Fun projects that don't fit neatly into a category!
Stripeplicity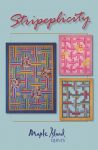 If you are a fan of stripes, you will have great fun with Stripeplicity. Fast and fun to put together making it a great project for gift quilts for babies and kids. Customize easily choosing accent squares or not and one border or two. Cutting instructions and yardage for stripes that are parallel to the selvedge or are selvedge to selvedge. 7 ½" finished  blocks in three quilt sizes; 12 blocks, 28 ½" x 36", 20 blocks 36" x 43 ½" and 24 blocks 36" x 51". The cover quilts show all 3 sizes.
Spark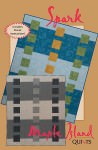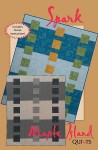 Bands of color across the quilt, squares of color going down the quilt! What a fresh look. Quick, easy and sure to be a hit with anyone wanting a very sleek look.
The pattern also contains the instructions on making a duvet cover with Spark as the top of the duvet cover.  Duvets are so popular right now and Spark makes it easy to create your own. There are 3 sizes of duvet covers, 2 Twin sizes (one is extra wide) and Queen.
We've used  Pellon Down Alternative Comforters as the insert for the duvet and  108" wide backing as the back side of the duvet.
Think of how many quilt tops you have that could easily be turned into duvet covers – you could change up the look of a bedroom so quickly with a new duvet cover!
3 sizes of quilts - Lap 54" x 66", Twin 66" x 90" and Queen 90" x 102".
Concentricity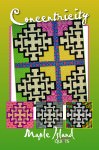 Make a strong statement with Concentricity. Your eyes are drawn to trace the path of the dark lines radiating out from the center. Pull the color out to the corner for a fabulous finish. The wall or table topper is 36" x 36". The generous lap quilt is 63" x 76 ½" and can be made with or without the sashing. Create these designs with simple and easy to piece partially framed squares.
Quilts are 36" x 36" and 63" x 76 ½".
Grand Opening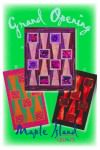 Have fun with these easy to stitch little angles and watch them move the eye toward the accent squares. Choose a dark and light with good contrast for the angle block and anything goes for the framed squares. Rotate the blocks for design options. Cover quilts show variations in fabric selection and are described on page 3 with fabric tips.
Three sizes: Wall 28" x 48", Crib 36" x 48", Lap 48" x 68".
Celebrate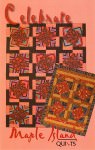 Celebrate has been a favorite for many years because it is such a fun way to use stripes and a very good way to become more comfortable with stripes. Many of you know that I'm always partial to stripes and enjoy introducing everyone to striped fun; it was well past time to update the pattern and keep the stripe fun coming. We've added a 2 block wall or large table topper size to the crib and lap sized quilts. There are such varied and wonderful stripes out there for us to choose for our projects. Celebrate will accommodate any type of stripe and give you quick and exciting results.
Wall/table mat 25" x 41", Crib 36" x 48" and Lap 48" x 64".
Options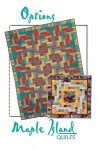 This easy to construct 10" quilt block will give you many design options. The look can be dramatically changed with contrast and value of the four fabrics. The large quilt was made with 2 sets of block fabrics, 24 blocks of each group of 4 fabrics.
Three sizes:  37" x 37", Lap quilt 46" x 66" and Twin quilt 66" x 86"
Item: MIQ424
Options Pattern
Price: $9.50 $3.00
Item: MIQ113
Flipped Out Pattern
Price: $9.50 $3.00
Choices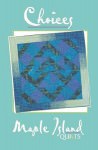 The Choices block creates a dramatic and linear look with three fabrics and one shape. The quilt blocks piece quickly and offer many options for the final quilt top design. Because the pieces are large, the design of the fabric becomes a focal point and is a great quilting project for some of the special fabrics available. A fun quilt for quilters of many skill levels.
12" blocks: 60" x 60".
Item: MIQ115
Choices Pattern
Price: $10.00
Item: MIQ131
Marbles Pattern
Price: $9.50 $3.00
Item: MIQ531
Squiggles Pattern
Price: $9.50 $3.00