Click on a photo to see a larger picture of the project. Click on a pattern cover to view more information.
Looking At Fall
Originally published 10/2/2019, via email
Have you jumped into the Cork fabric trend? We made some fun cork Kard Keepers.
Kard Keeper is a quick project that uses a 5"x12" piece of cork. About 2 ¾"x 4 ¾".
Tuck it into your pocket with just your essential cards and cash for quick errands.
A fun gift to make and give!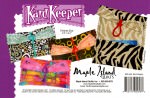 This is a sewing card with complete instructions on the back.
The instructions call for a fused lining of cottons, but cork can be used as a single layer making the Kard Keeper a very quick project. Trim the edges with a decorative blade or not and close it with a hair band elastic.
Some samples used a 12 wt thread from Wonderfil to show off the stitching.
See Idea #11 at our website for more information about a Cork Kard Keeper.
Another trending fabric look are the State Panels. We used the paper pieced corners from the Cool Corners pattern and added 3" borders in 2 colors for the frame.
Borders as shown are not in the pattern. Custom size 29" x 29".
These Cool Corners add interest to any border!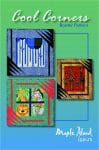 We used the smaller state motifs for the centers of a BQ block. The trimmed images are not quite 12 ½" x 12 ½"and required a small insert.
This could be such a fun family quilt for collecting the states as they become available. 18" block.
Windham Fabrics State Panels by Sara Franklin. www.windhamfabrics.com
Any of the 18" BQ's could be used for the frames.
These digital Diva projects from Clothworks feature the Feline Frolic fabric line. Perhaps it just arrived in your favorite shop!
It is not too late to create something for Halloween. These are wall size projects that would be fast and fun with your new Halloween fabrics! See Idea #5 for more information on how we finished the Baby Grand project.
Support your local quilt shop whenever you can! Please share this newsletter with your quilting friends or your local shop.
Have a great beginning to fall,
Debbie