Click on a photo to see a larger picture of the project. Click on a pattern cover to view more information.
BQ5 Encore - New pattern!
Originally published 5/24/2023, via email
BQ5 has been a favorite pattern and now in BQ5 Encore there are 2 more block sizes: 9" and 4 ½". These are exact miniature sizes of the original.
The 9" block size makes a perfect wall piece or a great kids quilt size. It's fun to cut up those novelty fabrics for the kids. The center square of the 9" block is a cut size of 6 ½".
3 fat quarters makes 20 – 4 ½" blocks for the table runner, 12" x 48". These centers are cut 3 ½".
12 – 9" blocks makes a great size for a wall piece. Who doesn't love a Halloween wall quilt or table mat! 27"x36". Optional border included in the pattern.
The table runner is 20 – 4 ½" blocks. Made with 3 fat quarters. 12" x 48". You could make 2 smaller runners using just 10 blocks in each runner. 9" x 22 ½" with a finished 1 ½" border – 12" x 25 ½". Heide did the quilting on this piece using closely spaced slightly wavy vertical lines. It was a perfect quilting choice.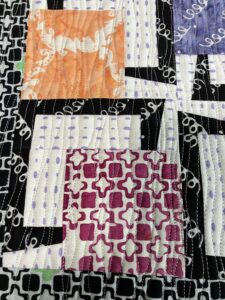 Susie made this cheerful and springy table runner. 12" x 48". Love the diagonal stripe binding!
Simple quilting with a large diagonal line in the border really works here.
MaryLou from The Other Quilt Shop 602/843-1554 www.theotherquiltshop.com made this fun version of the 20 – 9" blocks. 36" x 45". Contact the shop for fabric information. Cute penguins and fabulous quilting.
Karen used 20 – 4 ½" blocks to create this fabulous wall piece for her guest room in her winter home in Arizona. So vibrant! She mentioned that she doesn't usually do such small pieces but loved how it went together so easily! 18" x 22 ½".
Heide used 12 – 4 ½" blocks with a 2 ½" finished border for this charming wall piece or table topper. The mitered stripe border adds a fun edge to the project. 18 ½" x 23".
Have a great spring and summer ahead. Thanks as always for your continued support of Maple Island Quilts.
Debbie