Click on a photo to see a larger picture of the project. Click on a pattern cover to view more information.
Early Summer Inspiration
Originally published 5/17/2021, via email
The time seems to go faster when the weather starts to warm up here in Minnesota. Your local quilt shop may be full of new fabrics to tantalize you right now!
So many quilters have generously shared their fabulous projects and are inspiration for you.
Susie created this springtime version of Comet Tails. She fused the circles and skipped the stitching around the circle. 20"x40".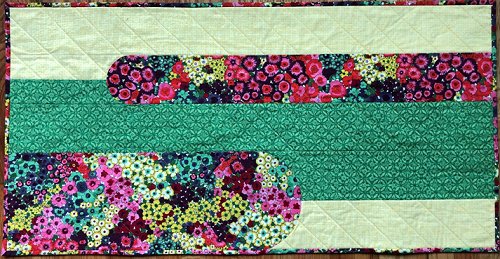 Susie has a wonderful collection of small florals and did a colorful Slant table runner based on Idea #13 at the website. She did 3 rows rather than the 6 rows for her space. 16"x 42".
You need the Slant pattern for Idea #13.
MIQ242 Slant
Kim shared two quilts she pieced and quilted and both feature collections and themes. BQ2 with the flamingoes make me smile. It was made as a gift for someone who was crazy about them. 54" x 72".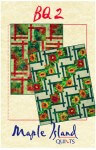 MIQ965 BQ2
She said that the lighthouse quilt is a favorite from long ago. Using multiple tones of yellow for the light background adds extra interest on this BQ. 54"x 72".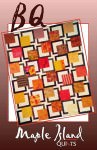 MIQ705 BQ
Faye shared this spectacular Cool Corners tiger. 32" x 32". A panel is used for the center. Cool Corners is a border pattern with 2 paper pieced corners.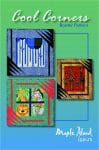 MIQ241 Cool Corners
Sara stitched this fun National Parks Cool Corners. The background colors are a perfect choice to compliment the center. Rectangle size 28" x32".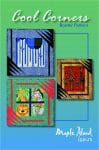 MIQ241 Cool Corners
Ken pieced and quilted this BQ4 that is sure to make you smile with the fun Alexander Henry Wranglers fabric. He customized the project by making pieced stars for the centers of the smaller blocks and of course fussy cut the larger centers. The multicolored pieced border is such a nice tie- in for the project. 60" x 72" plus border.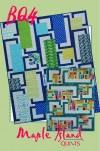 MIQ457 BQ4
Madonna shared this BQ2 with us. It is stunning in its high contrast. Don't go searching for that fabulous center print in multiple colors. You know I was sure to ask what it was. She said it was from her stash and at least 10 years old. I am so glad she found the perfect pattern to showcase it! She plans a final brown border to finish. 24- 13 ½"blocks (4x6) 54" x 81" plus border.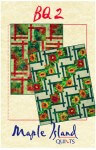 MIQ965 BQ2
We had a rainy spell here in Minnesota and Heide named this table runner, Rainy Day Rendezvous as a play on Ric Rac Rendezvous. She customized it by making the stripe insert in 2 colors rather than an accent and the center fabric. It is easy to make that change because the segments are a strip set. Heide pieced and quilted the project and made it to fit her space. It is nice to envision a project in real life! Heide does creative tablescapes throughout the year. Pattern size 11 ½" x 39".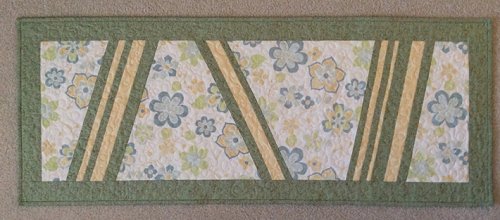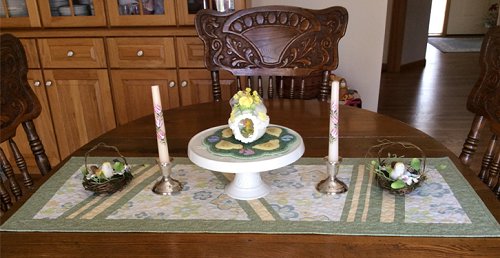 We have a special offer for you. Buy any 2 patterns and we will include a free Ric Rac Rendezvous pattern. Don't put it on your order or you will be charged for it! Every order that is 2 or more patterns will automatically receive a copy of Ric Rac Rendezvous. This offer is good until May 31, 2021.
Thanks so much for your continued support at our website or in your local shop. We truly appreciate it. We love sharing pictures of your work, so please keep sending them!
At our website, did you know that you can read past copies of the newsletter? Perhaps you saw something a few months ago and want to see it again? Check it out by clicking the newsletter button. We list the patterns that are pictured in each newsletter to easily find something for yourself.
Enjoy the days as summer gets into swing,
Debbie