Click on a photo to see a larger picture of the project. Click on a pattern cover to view more information.
New Patterns from Maple Island Quilts
Originally published 5/10/2019, via email
It is always great fun for us to release new projects that have been in the works for months. There is something for everyone….large prints, borders for panels in 2 sizes and stripes for fun!
BQ6 joins the BQ Nation family. There are 4 quilt sizes; wall, small lap, large lap and queen. They feature an 18" block with a 12" center.
We did something new and fun as a bonus and created single block designs for the 18" and bonus 9" block; you can raid your scrap bags and make each block different or use multiple fabrics for each block for a scrappy look.
Usually the BQ quilts are made with strip sets but for the single blocks you will cut each segment individually. You can have fun playing with your fabric choices and using what you have!
See the BQ6 gallery for more looks. Below is the 9" single block with assorted fabrics 27"x36" and 4-18" blocks 36"x 36".
Diva 4 joins our border patterns for panels. The fabric artists continue to create lovely panels and now they also come in larger sizes.
Diva 4 has the instructions to fit the standard 24"x 44" panels and 36"x 44" panels. The projects are 38"x 58" and 50"x 58".
There is a bit of an optical illusion as the accent bars lead the eye to the corner.
Be sure and check the Diva 4 Gallery for other examples! It also looks good with a horizontal panel!
Stripeplicity combines our love of stripes and strip sets. It is fast and easy fun for baby quilts and small lap quilts for gifts! Fabulous stripes are easy to find and have fun with.
The 7 ½" block is rotated to make fun designs in 3 small sizes:
28 ½"x 36", 36" x 43 ½" and 36" x 51". The accent squares are optional. Because stripes come on the bolt both horizontal and vertical, the fabric requirements and the cutting instructions are written for both directions.
See the Stripeplicity Gallery for additional looks. Kay, a member of my quilting design group created the perfect title.
Shown below are 12 block quilts 28 ½" x 36". Heide created the bright fun with a zigzag stripe.
Our friends at NotJustQuiltz shared these fabulous versions of BQ4 and BQ5. Virginia did the piecing and Nancy or Kent did the quilting. You can see their large selection of Aboriginal and batik fabrics at www.notjustquiltz.com. They might even have a kit if you ask!
40 ½" x 54" 13 ½" blocks.
You can see additional quilts featuring the aboriginal fabrics at the BQ5 Gallery.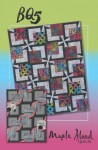 Jelane created this great High School T-Shirt memory quilt. Check out the fabulous quilting by Deanna. 18" blocks BQ5.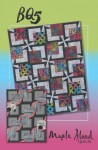 Thank you so much for your interest in Maple Island Quilts. Please share the newsletter with your quilting friends and with your local quilt shop if they don't know about us!
Debbie