Click on a photo to see a larger picture of the project. Click on a pattern cover to view more information.
March Inspiration
Originally published 3/7/2019, via email
The weather has been periodically terrible for nearly all of us; good sewing days for some! How about a quilt that celebrates both math and dessert? Do you have a Math Geek in your life or just want a day with pie?
Wikipedia says:
PI Day is an annual celebration of the mathematical constant P. Pi Day is observed on March 14 since 3, 1, and 4 are the first three significant digits of P. In 2009, the United States House of Representatives supported the designation of Pi Day.
Make it with Dark and Light FQs (or yardage for the light background).
Shown on the cover are the small lap 42"x 54" (12 FQs) and the large lap 51"x72" (9 dark FQs and 1 ⅝ yds light).
The block is 12"x 9".
Click here for the Pi2 Gallery of projects.
I have used the small lap size often for new baby quilts.
As shown below, all kinds of color combinations and fabric types work up beautifully.
Some of you have been eagerly waiting for the newest Kaffe Fassett and friends fabrics to arrive in your local quilt shop. Choosing the right pattern to showcase the delicious prints and colors can sometimes be overwhelming. We have featured some Kaffe prints on our pattern covers through the years; perhaps you already have these patterns!
I have this new print Brassica PWPH 051 on my design wall. You are seeing 1.5 yds. with so many possibilities as we shared above.
I often think of the BQs for a large print, so I am always interested in what 12.5" might look like. Often that will involve fussy cutting….sigh! Digital cameras can be very helpful in seeing what might be possible. Just crop the picture around the shape you plan to cut and there is your visual.
My tips for fussy cutting with less stress!
Lightly spray starch the yardage you might need.
I use a square ruler if I have one the right size. I put that on the fabric and then rotary cut freehand about ½ " larger on all 4 sides. I do the accurate trim after the segment has been removed from the yardage – less slippage and errors!
Do not spray starch after cutting to the correct size – it will often shrink.
Often I make just 1 block before deciding on both pattern or color. The BQ pattern has the cutting information for just 1 block.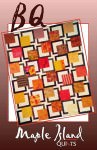 Please support your local quilt shop and share this newsletter with friends or your local quilt shop if they don't currently carry titles from Maple Island Quilts! Enjoy your stitching while winter goes away.
Debbie