Click on a photo to see a larger picture of the project. Click on a pattern cover to view more information.
Welcome Summer!
Originally published 6/15/2021, via email
July 4 is always a big celebration for so many of us and we're showing projects that celebrate Red, White and Blue!
We have to start it off with this great Show Off from Sue. Show Off is a long time favorite for multi fabric projects. Sue has made kits for her QOV group in Colorado. Her custom version is 42-10" blocks, 73" x 83". We have so many readers who stitch for QOV. The quilts are always gratefully received.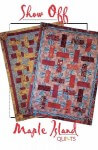 Show Off  MIQ 315
Heide created this patriotic version of Line Up. Doesn't it look great on her table! The table runner is Idea #15 at our website, www.mapleislandquilts.com. You need the pattern for the block construction.
She customized the fabric selection by using special centers, adding an inner border with tiny little cornerstones and larger cornerstones on the outer border.
Slant is a fun project to use assorted reds and blues. 14 rows, 52" x 71". Quilted by KARS Quilting. Check the Holiday gallery for other July 4th ideas.
Slant MIQ 242
I pieced this Scooch Over 2 with the mini blocks in the pattern, 31" x 40" and am hoping to get it finished for July 4.
Scooch Over 2 MIQ 827
Agnes pieced this great Scooch Over 1 and Cindy quilted it beautifully with the Baptist Fan design. She made it for her nephew's college graduation and used travel prints because he enjoys traveling.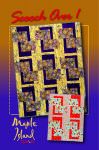 Scooch Over 1 MIQ 826
Vicky created this great version of Diva 5 with a brilliant panel of birds and peonies.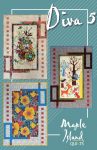 Diva 5 MIQ 248
We hope your summer has started well and you are enjoying time for sewing and outdoor fun with family and friends.
Our special is a quick table runner 20" x 40", Comet Tails. There is still time to make this one for your July 4 celebration! Buy 2 patterns and receive Comet Tails free. Do not put it on your order or you will be charged for it. Be assured that we will include it in your order of 2 or more patterns! Special is good until June 25, 2021.
You are welcome to share the newsletter with friends or on social media. If you have a picture of a Maple Island Quilts project, we are always excited to see what you do! Please send them as an attachment.
As always, thank you so much for your support through your local quilt shop or directly though us.
Debbie