Click on a photo to see a larger picture of the project. Click on a pattern cover to view more information.
Enjoying Summer
Originally published 7/10/2022, via email
The summer weather is upon us; a good time to head to the quilt shop for new fabrics and then retreat to your sewing space, right?
We have inspiration from our readers to share.
Karen tested both of our new patterns, BQ7 and U Turn this spring. She also is a wonderful machine quilter. Her color choices are fabulous. Can you see the flowers that are the quilting design in BQ7?
On the U Turn Karen customized the outside borders for her look. Love the blues and greens!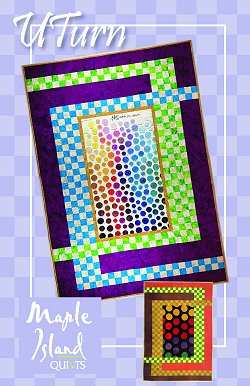 Tina from TurtleHand Batiks made this great Diva 5. The Etsy site is filled with spectacular hand painted and hand dyed fabrics. www.etsy.com/shop/turtlehandbatik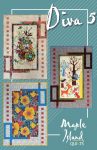 Diva 5 MIQ 248
Sue does a lot of patriotic quilt projects and quilts for QOV. This version of Scooch Over 1 is just great. She told us that she added 2 borders to bring it to a larger twin size.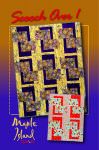 Sue also had time to try out BQ7. She customized the pattern with 2 colors of frames and chose to skip the small accent. The different frame colors really add interest.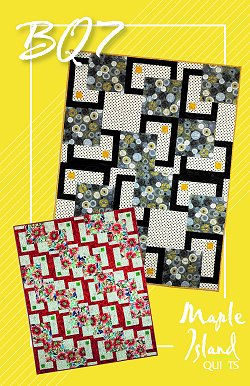 Pam pieced and quilted this glorious version of Hot Shot. It will be auctioned for the Adult Literacy League fall fundraising event. She reduced the size of the blocks and added custom touches to the pattern with extra borders. Notice the decorative stitches in different colors she added to the quilting.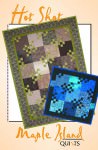 Kalynn made this spectacular BQ6 for her granddaughter's wedding gift. Notice that she used both block sizes and both layouts. Such fun and a very big quilt!
A wonderful local shop, Twin Cities Quilting created this version of BQ3. www.twincitiesquilting.com 651-340-8263. They told us they like the BQ3 for kids quilts!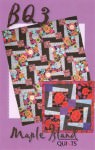 Other news from Maple Island Quilts is for our local readers. We are having a garage sale of fabric, quilt tops and finished quilts sale next month. August 3 or 4 through August 6. At the address on our patterns: 329 Maple Island Rd, Burnsville MN. Watch for more details on Craig's List and FB Marketplace. It's been quite a few years since we had a fabric garage sale so we have a lot of yardage, precuts, tops, quilts and bargains on patterns! Spread the word – thanks!
Enjoy the fun of summer with your family and friends,
Debbie