Click on a photo to see a larger picture of the project. Click on a pattern cover to view more information.
Inspiration for the New Year
Originally published 1/16/2022, via email
The great thing about quilting is the ability to lose yourself in your project. We have needed that this January, right? For some of us, the winter months force us inside and create some great time for quilting.
Agnes created this great BQ5 football quilt for a brother. Brandi did the quilting, complete with helmets. Check out the binding….a very cute rounded zigzag stitch. 54" x 72"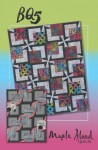 Tina Hilton of Turtle Hand Batiks has taken some of our patterns and with digital magic is showcasing hand crafted, one of a kind batik art panels on the pattern covers. Turtle Hand Batik offers Malaysian one of a kind batik art panels, small batch handcrafted quilting fabrics with traditional batik and artisan dyed fabrics. They are just fabulous.
We are showing a few of their new mockups here, but there are many more featured in their Etsy shop www.etsy.com/shop/turtlehandbatik pattern section. See larger pictures of the panels at the New button and be prepared to get lost in the possibilities and inspiration!
Our friend Lynn does many bright and cheerful comfort quilts. She told us she really likes Scooch Over 1 for congregate care quilts. They are a great size for gifting. 36" x 48"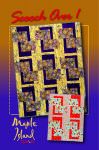 Scooch Over 1 MIQ 826
Susan sent us this version of BQ4. She makes quilts for a church group in Abbotsford, BC. The women who tie the quilt tops are called Helping Hands. She made some creative decisions to accommodate the fabric. Can you see that she reversed the light/dark in some blocks? It does create a new look. This group has size specifications and Susan solved that by including a horizontal strip of one of the center fabrics. So many of you are such great charity stitchers – well done!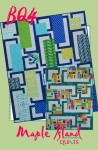 BQ4 MIQ 457
Clothworks did this fabulous BQ5 digital quilt with Vibrant Life by Shandra Smith for Clothworks. The fabric will ship in June 2022. https://clothworks.com/search?q=vibrant+life 54" x 67.5".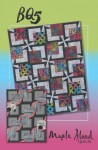 BQ5 MIQ 825
With Valentine's Day coming, do you have something planned for a special quilt? This is a Valentines version of Arrow that our friend Heide created. 19.5" x 37".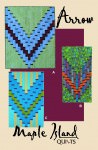 Arrow MIQ 456
I was going for a Valentines vibe with the pink and magenta colors. This is the bonus table runner found at the Ideas button #15 at the website. You need the pattern to make this table runner. 17" x 36.5".
Our special for you is buy 2 or more patterns and receive the Line Up pattern free. This special is good until January 30, 2022.
We so appreciate all of you and the support you give us. We like to receive pictures of your projects and see how you put your creativity to use in Maple Island Quilts designs. Please share this newsletter with friends and social media!
Have a great year ahead and stay healthy!
Debbie