Click on a photo to see a larger picture of the project. Click on a pattern cover to view more information.
Inspiration for the New Year
Originally published 1/17/2021, via email
Usually January brings to mind cleaning and scrap projects for me. Like many of you I have been spending time with those things for months! So instead we'll inspire you with projects from quilting friends that graciously shared their work with us. We love seeing how they customized the size to their needs by adding borders.
Debra pieced, quilted and shared "her favorite Scooch". You can never go wrong with black light and red! Fabulous poppy print. Scooch Over 1 54" x 72".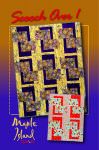 A dramatic BQ6 from Sherri. She did the piecing and the elaborate quilting on this rich looking project 12 blocks 54" x 72".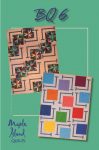 BQ6 MIQ243
Debra used BQ to set her "Going on a Picnic" blocks from Pat Sloan. The purple and gray were great colors for setting the blocks. Alicia quilted the perfect graphic design.
BQ-12 blocks 54" x 72".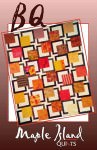 BQ6 MIQ705
Lynn makes many small quilts with simple meandering for donation work through her guild. She thinks about what her father-in-law would have liked for a small quilt.
Sometimes it is hard to do masculine projects, but Lynn seems to have mastered the idea!
BQ3 12 blocks with border.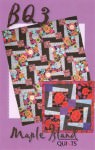 Veronica's Imperfect Autumn Quilt is stunning with shop hop blocks set into BQ2 and extra borders added. She is also the talented machine quilter. 12 blocks with extra borders.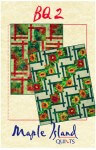 BQ2 MIQ965
Lynn just started quilting in July 2020 and made these cheerful companion quilts for her great-nephews who share a bedroom. It is genius to share the same palette but change up the accent to the boys' current favorite color. Hidden in the fabric are pieces of UNC Chapel Hill fabric for the alum parents. Quilted by Melodee. BQ6 12 blocks with border.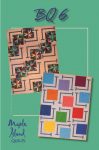 We received so many wonderful pictures and will share more next time. I hope you find inspiration from the work of these talented quilters. Thanks to everyone who shared!
Here at Maple Island Quilts we have been working on 2 new patterns, Diva 5 and Line Up.
A Sneak Peak of Diva 5. Shipping in early February. Not available now!
I hope you have stayed cheerful and healthy during the exceptionally long past months. We are lucky that we have the hobby of quilting to make our days happy. Quilting is always good for the soul and so many of you have used your talents to make quilts for others these past months.
As always, thank you so much for your continued support of our patterns. Please continue to support your local quilt shop when you can. You may share this newsletter with your friends.
Debbie