Click on a photo to see a larger picture of the project. Click on a pattern cover to view more information.
Happy New Year!
Originally published 1/2/2020, via email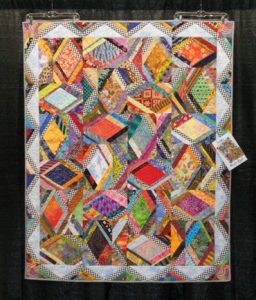 I often like to spend January on organization after the chaos of the holiday season; sorting fabrics and looking through partially completed ideas! Cleaning out my sewing areas is always on my January list. It is also fun to begin new projects.
I like scrap projects in January and Snibbles has always been a favorite because you can use any size scrap. Start with a rectangle of something for the center and foundation piece the scraps around the edges.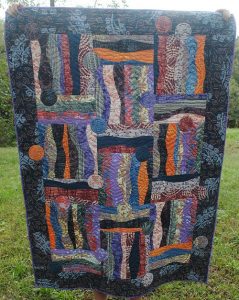 TurtleHand Batiks www.turtlehand.com shared this spectacular Carnival project. It is made with our easy curve technique. The blocks are made with fat quarters. This is the lap size 46" x 64".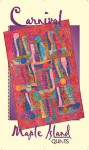 Carnival MIQ 152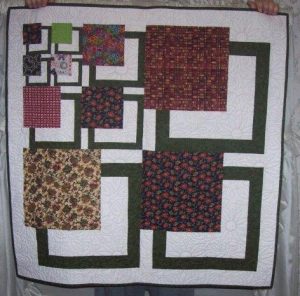 Norma Lee shared this fun BQ project. She used 3 sizes of the BQ block in this guild challenge. The smallest blocks , 4.5"are from BQ Goes Mini and the other 2 sizes are from the original BQ pattern, 9" and 18" blocks. Quilted by Deanna Novak, Just Peachy Quilting.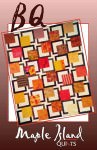 BQ MIQ 705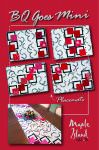 BQ Goes Mini MIQ 828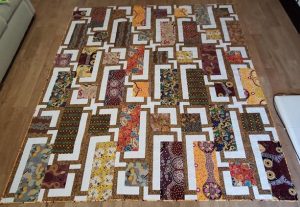 Denise shared this BQ4 showcasing aboriginal prints. Quilted by Darby Watson, Canyon Quilting. It is just fabulous. 48 blocks 96" x 108".
BQ4 MIQ 457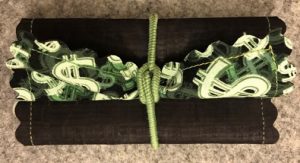 Susie had fun with the Kard Keeper and cork fabric. She did the cute money print as the backing; doesn't that make you smile?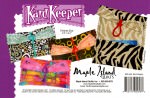 Kard Keeper MIQ 348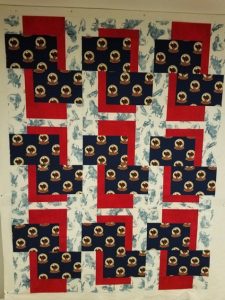 We always love seeing Quilts of Valor quilts. So many of you have created projects for this group and the deserving recipients. Sharon from the Lewis Clark QOV sent us this picture using Scooch Over 1 54" x 72".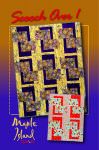 Scooch Over 1 MIQ 826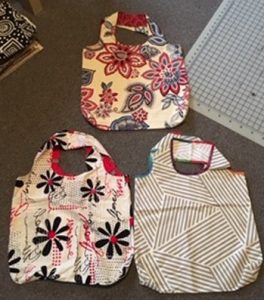 I had big plans to make Destination market style bags for all the shoppers in my family. Even though I started in the early summer I didn't get very far. The pattern is a one-piece paper pattern that goes together quickly, folds up easily and replaces the plastic bag we are all trying not to use. If you don't have 54" wide fabric, you can create your own with a seam and a little more fabric. I tried using fusible binding instead of the facing and wouldn't suggest it to anyone! The facing is still the best!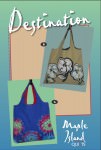 Destination MIQ 515
We hope you have a great start to 2020 and all the new projects you will create.
Our special January offer is: Buy 2 or more patterns and get the Destination pattern for free! Don't put it on the order form or you will be charged for it. Every order that is 2 or more will automatically receive the Destination pattern. This offer is good until January 20, 2020.
Thank you for supporting your local quilt shop and for enjoying and using patterns from Maple Island Quilts. Please share this newsletter with your friends, guilds and local shop.
Debbie