Click on a photo to see a larger picture of the project. Click on a pattern cover to view more information.
Still winter here!
Originally published 2/16/2023, via email
I hope your winter has been easy and filled with much fabric fun. We have seen so many wonderful versions of the BQ patterns on line in the past few months! Thank you always for supporting Maple Island Quilts.
BQ7 option! The newest BQ has that big corner square that was just demanding to be a fabric that was not background! We substituted the Votes for women fabric to see how that would change the look! I like it – what about you? Consider this option for your next BQ7! 36"x36".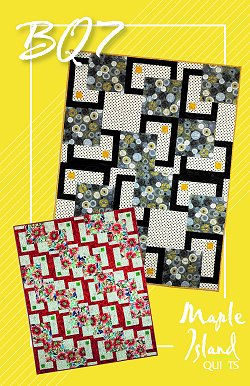 BQ7 MIQ361
BQ by Roberta Penniman. Roberta told us she was on a mission to use her fabrics and create 30-40 charity quilts last year. This fabulous African quilt went to: Camp Erin which is a bereavement camp and program for kids, in Philly and near suburbs. It is a nationwide organization.
https://elunanetwork.org/camps-programs/camp-erin Roberta is a long arm quilter and did the quilting.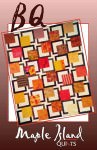 BQ MIQ705
Mary Lou from The Other Quilt Shop created this Diva 5 shop sample using the Frida panel – isn't it great? www.theotherquiltshop.com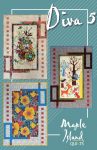 Diva 5 MIQ248
Our office will be closed for a week starting Monday February 27 through Friday March 3. We will resume shipping on Monday, March 6.
Thanks for supporting Maple Island Quilts with your beautiful projects!
Debbie