Click on a photo to see a larger picture of the project. Click on a pattern cover to view more information.
Late Summer Inspiration
Originally published 8/6/2020, via email
A summer like no other for everyone! We hope you find some inspiration in these projects.
Susie made this fun Slant 31" x 42". It is a custom size based on the Slant Bonus pattern on page 4 of the pattern. You can find this new bonus version at our website. Go to the Ideas page and scroll down to Idea #13. You are welcome to print it for your customers and add it to the Slant pattern. It would be a fun kit.
Slant MIQ242
It is a good time to think about the fun Halloween fabrics you have. This project from Peggy used fun Halloween prints as the centers in BQ4. Peggy customized the 4 block wall size (24" x 36") with a narrow inner border and wide border to finish. The border is not in the pattern.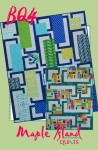 BQ4 MIQ457
There are beautiful fall batiks starting to arrive. This is Stackables 1 - 48" x 66". Create it with yardage for the gold rows and yardage or FQs for the green leafy print.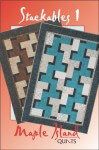 Stackables 1 MIQ349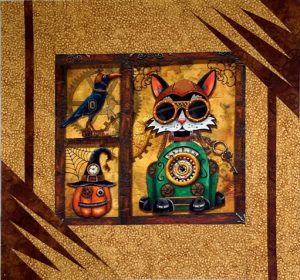 We cut the Steampunk Halloween panel from in half and used it in Cool Corners. 34" x 32". We made it slightly bigger than the pattern to get more of the picture; Version 3 is easy to adapt.
Desiree's Designs for QT Fabrics www.qtfabrics.com
Susie used the BQ6 bonus layout on page 4 of the pattern to create this eye catching project. The centers were cut from a panel.
She customized the cutting instructions that are on our website Idea #10.
As shown with a ½" finished inner border and a 6" finished outer border. 67" x 85".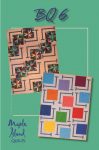 BQ6 MIQ243
Peggy sent us this fun version of BQ4. She told us that she had been collecting sunflower prints for a very long time and even had her quilting friends on the hunt. Quilted by Jane. We do love to hear the stories of your quilts. 90" x 95".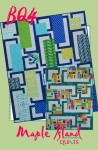 BQ4 MIQ457
Like many of you, we have been cleaning and sorting fabrics and projects. These are a few of the treasures I have discovered in bins! How about you…are you finding fabrics you had forgotten about?
These are both In-Step projects. The lap size 45"x 69" and the mini size 36" x 40" are both included in the pattern. The centers are from one of my favorite designers, Marcia Derse. These prints are from older fabric lines; maybe you still have some in one of your bins!
Frenzy is a project for stripe lovers. The more interesting the stripe, the more interesting the project! I am going to set the 9 block project on point and yes, have the 2 tips hanging off the border triangles. The blocks are 8 ½". Do you have a fabulous stripe waiting for a project?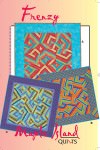 Frenzy MIQ153
These table runners are Comet Tails 20" x 40". Sometimes it is fun to see the same fabrics used in different positions and with different companions. It is a very quick runner and shows off the fabrics you choose.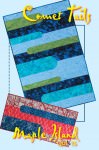 Comet Tails MIQ452
Thanks to you all for your continued support of our patterns. We hope you support your local quilt shop whenever you can, especially during this extremely challenging time.
Please share the newsletter with your friends and even your local quilt shop.
Enjoy the remainder of summer and make beautiful things!
Debbie
Maple Island Quilts