Click on a photo to see a larger picture of the project. Click on a pattern cover to view more information.
Summer's End Greetings from Maple Island Quilts
Originally published 8/29/2019, via email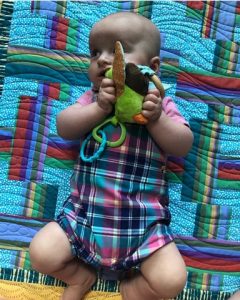 These darling babies and helpful cousin are laying on Stripeplicity. It is a fast and fun small size quilt that uses a stripe to make the statement. We backed the quilt with a cute animal print. Karen at Sundance Quilt Design used wavy lines to complement the straight lines of the stripe. 12 – 7 ½" blocks 28 ½" x 36".
Here in Minnesota we tend to feel that Labor Day marks the end of the summer season. Many of our tribe have had productive quilting time during the summer and they have shared some fabulous projects!
You might find just the right inspiration for your next project!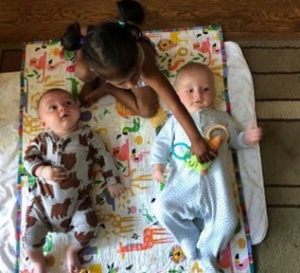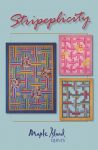 Another Debbie created this beautiful BQ quilt using 12" center blocks designed by her friend Linda and quilted by Robin.
12 – 18" blocks 54" x 72".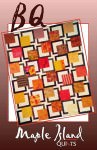 We had requests to see the completed version of this auction quilt from the Dakota Prairie Quilters Guild. It raised a lot of money during the August auction! Custom size:
25 – 18"blocks 95 ½" x 95 ½".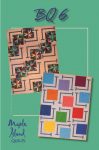 Heide stitched this very cute table runner with the Wobble block in a ¾ size block. The original block is 14". A fun use of small pieces of florals. The angled edges of the runner look just perfect with the on point blocks.
Front Porch Quilts created this wonderful version of Diva 2 for the 2019 Minnesota Shop Hop. The center is a panel.
They customized the pattern by adding an extra border using a border print. It is stunning and a fun showcase of Minnesota. You can reach them at 844/325-1770 or on Facebook.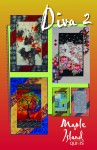 My sister Lesa did a colorful version of Bagavond using an assortment of canvas weight prints. The pictures show the pieced back and the pieced front with pockets. Random piecing is such a great way to use small favorite pieces of fabric. 14"x 16" x 7".
My local quilt shop, Quilter's Haven, is showcasing a winter panel with Diva 3. I do love the red, black and grey color combination, especially the red and black plaid.
The pattern includes a tutorial for the curved cutting and piecing. If you haven't used our inventive curved cutting and machine stitched piecing method, it is fast, fun and achievable for all skill levels.
34-35" x 51-54", depending on your center.
You can reach them at 651/322-7071.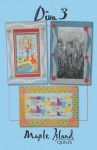 Diva 2 for twins! We love to see our customers put their vision into our patterns. The center is a panel and Deana customized the pattern by adding her own pieced rocket ships to the sides. The fun quilting includes rockets, stars and planets. You can reach Deana through Facebook: Just Peachy Quilting.
We hope your summer has been filled with friends, family and time to quilt. Thank you so much for using Maple Island Quilts patterns for your special projects! Please support your local quilt shop whenever you can. You are welcome to share this newsletter with your friends and local quilt shop or through your social media.
Debbie