Click on a photo to see a larger picture of the project. Click on a pattern cover to view more information.
New Patterns from Maple Island Quilts
Originally published 4/10/2020, via email
None of us ever thought that we would be facing such challenges, but here we are. I hope you and your families and friends are getting through as well as you can.
Splitz is a fun asymmetrical table runner in 3 sizes. The quick two color angle segment so many loved in BQ3 is back in a reduced size to make the look of a slightly angled right angle.
This quilt is the middle size, about 13 ½" x 43 ½".
Three sizes: 13 ½" x 34", 13 ½" x 43 ½" and 13 ½" x 52".
The setting triangles are cut slightly oversized so everyone will have sharp points on the corner squares after trimming and stitching.
They don't take much fabric so you might have just what you need right on your shelf!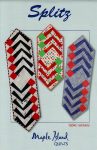 Splitz MIQ246
Splitz would be a fun project to use with seasonal fabric, changing up your table monthly as the year goes by.
While this isn't quite a Halloween project, the pumpkin does make me think of fall!
Susie made her Splitz with some special treasured fabric that reminded her of the Molas she would see when her family lived in Panama while growing up.
The bright multi color fabric is functioning as the light. 8 rows 13 ½" x 43 ½".

Heide chose a softer pallet for her Splitz and used her favorite dusty purple and pink.

BQ DoubleTime is our other newest. DoubleTime because there is a BQ frame around the top and around the bottom. A tiny accent to give a point of interest.
The pattern includes the option of an inner border for both sizes.
A table runner or topper with all the BQ features that you have enjoyed with the BQ Nation patterns: a place to show off some special or beloved fabric and quick and easy to put together. Space to show off your machine quilting for some of you!
Susie chose a bold floral for her center. The pink dots are a fun choice for the light.
Two sizes: 18" x 27" and 18" x 44". The smaller quilt (blue) is fat quarter friendly.
Heide is showing off an early spring look on her table. She gets the credit for the optional inner border! That tiny little border can really set off the center.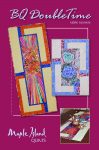 BQ DoubleTime MIQ247
Some of us are cleaning our sewing rooms and organizing our fabrics during this stay at home time. I am finding both treasures and trash – how about you?
I must have abandoned this BQ4 because I ran out of center fabric!
But I found something that would work and I'll just call it a design option.
You will see what I chose when it is finished! 20 blocks 60" x 72"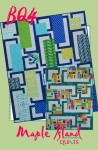 BQ4 MIQ457
When I and my testing/design group were experimenting on the miniature sizes of the BQs, we sampled all of them before deciding on the original BQ to create BQ Goes Mini. I found this test version of BQ5 Mini. Isn't it just so cute? It is not a pattern yet, but if you are a math person, it is ¼ the size of the original pattern. You will have to experiment with the angle piece to get it right. Or you can wait for the pattern! The blocks are laying on a treasure I found when sorting and tidying.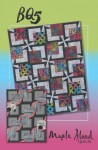 BQ5 MIQ825
You can find more examples at the Splitz and BQ DoubleTime galleries at our website, www.mapleislandquilts.com
We are wishing you all the best as you try to make your way through this new way of doing business. Support your local quilt shop as best you can during this time. Thank you so much for your support of Maple Island Quilts. You are welcome to share this newsletter with your friends or on your social media.
Keep sewing,
Debbie Bowles
Maple Island Quilts