Click on a photo to see a larger picture of the project. Click on a pattern cover to view more information.
Spring Fun
Originally published 4/15/2019, via email
You may still have snow on the ground, but soon the colors of spring will appear for all of us! The quilt shops are filling with brighter colors and new samples and you are thinking about new projects.
Hoffman Fabrics shared 2 projects with us. They both feature upcoming fabrics and beautiful panels from the Call of the Wild Spectrum Digital collection. They have a July delivery date to your favorite quilt shop. 36" x 52".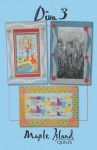 Vicky made this colorful baby quilt and had it quilted by Anne of Down Under Quilting. www.downunderquilting.com Vicky added borders (1" & 2") to make it 42" x 54".
Coming Soon! Three new patterns: BQ 6, Diva 4 and Stripeplicity. They feature some of my favorite styles of fabric: special center fabric, special panels and stripes!
We will feature them in the next newsletter when they are ready to ship, hopefully the end of April. They are not on the website yet.
Thank you for your continued interest in Maple Island Quilts. Support your local quilt shop and please share this newsletter with your quilting friends or on your social media.
Debbie