Workshop and Lecture Fees
Full Day, 6 hours - $650
4 hour class - $400
Half Day, 3 hours - $350
Lecture/Trunk Show/Demonstration - $450
Lecture/Trunk Show/Demonstration combined with a teaching day - $350
Transportation (from Minnesota), hotel (single), meals and any other authorized expenses are also necessary. Transportation and luggage fees (2-50# suitcases and carry on from Minnesota)
All workshops from my pattern line include a quilt pattern for each student (20). All students need a book for any book projects (discounted price available from me). Photos of projects, course descriptions and supply lists are supplied to your time line.
Contact us for more information.
Lectures
It Doesn't Always Have to Match
It's easy to get stuck in a personal rut in quiltmaking. This lecture and trunk show will provide you with ideas and examples about teaching yourself to take small (or larger) risks in your quiltmaking - from fabric to design. I show 2-3 quilts of many of the patterns from Maple Island Quilts, showing how fabric, value and block orientation can easily change the entire look of the project.
Life is not a Straight Piece
Let's look at some easy curves and get excited about what can happen when the lines aren't all straight. Informative fun for all quilters who "don't do curves"! I will show quilts that use variations of the inventive rotary cut and machine stitched curve techniques and give demos of the techniques. It's all about curves in this trunk show!
Non-sewing Workshops - Half Day
The Color Wheel
Learn how the color wheel functions and how it can help make you more confident in fabric selection.
Inserting Curves in Traditional Blocks
A drafting class focusing on changing traditional blocks into something new. Demonstration of curved techniques from Cutting Curves from Straight Pieces. No drafting experience necessary.
Workshops
Cutting Curves Techniques Workshop
In this technique workshop you will try out 3 different Cutting Curves techniques that are inventive rotary cut and machine stitched: the Pagodas/Eureka Curve, the Bent Pieces Curve and the Carnival Curves. With each technique you will create a block (s) or segment.
After trying out the techniques each student will receive one pattern of their choice that features their favorite technique and have fun becoming a quilter with curves! There will also be demos of additional curve techniques.
Class is 4 hours, suitable for all skill levels.
There is a 6 hour, full day workshop available also. This workshop teaches 4 different curve techniques, adding the Eating In Curve to the learning fun.
Quilting Workshops from our Pattern Line
Many of our patterns are perfect for half or full day workshops. It is possible to offer students a choice of two different projects for your class. Contact us for information about which patterns work well together and suitable length of classes. Pattern is included in the price of the workshop.
Popular choices from our patterns include:
Quilting Workshops from the book Cutting Curves from Straight Pieces
These are examples of some of the projects that have been fun classes for other students. You may choose any project in the book for your workshop.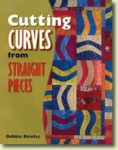 Cutting Curves from Straight Pieces is no longer in print, but some of the projects are available as single patterns and make great classes. I can do a variety of projects that teach and feature the inventive rotary cut and machine stitched curve. They are suitable for full day classes. Many students will easily finish the Lesson Sampler in a full day. For the other projects, the students will have completed a portion of the quilt blocks in a full day, schedule more time if the goal is to get the quilt almost completed and able to spend time on quilt top design.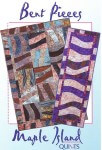 Bent Pieces: Lap size or larger
Make it bold or quiet, scrappy or controlled, everyone has fun with these bent pieces. Each block in your quilt will be very unique and allows personal design throughout block construction and quilt layout. A great project for trying out colors, contrast and value as you create these 12" blocks.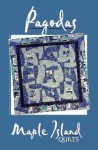 Unique Pagodas:
Full of design fun throughout the project as each quilter controls the look of each block and the look of the final project.
Contact Us for more information.
Quilting Workshops from the book Dancing Quilts from Straight Pieces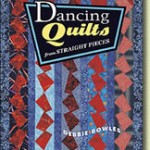 Your group can choose any of the quilting projects found in the book. The following projects have been fun for other groups. Sewing machines for these classes must be able to zigzag.
Some of these quilt projects can easily be combined to offer the students a choice of the size of project they wish to make. An example would be the three projects, Cha Cha Zigzag, Cha Cha Dinner placemats and I could have Danced all Night. They all use the same segment; just done in a different setting. The students would then be able to choose a small quilting project, wall project or the larger project. Contact Us for other combined possibilities – this doesn't work for all projects!
Dancing Quilts:
No templates, all dancers begin as layered and stitched squares that are re-cut into traditional segments for piecing. Fun to do with unique and surprising results for each quilter. You may show off beautiful threads and use decorative stitches or zigzag during the dancer construction.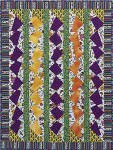 Dancing I and Dancing II
57 ½" x 72" or 30" x 40"
Whether you make it big or small, these odd little shapes will dance randomly down the rows of your project keeping everyone's attention. Work with your collection of two or more color families or make each row different; it's your dance!
Double Sash Dance
48" x 66" 16" blocks
Dance around the 8" center square and create an unusual frame that will show off your fabric. Add a second frame of straight lines for an interesting combination of odd angles and straight lines.
Cha Cha Zigzag
34" x 40" 10" x 16" blocks
Create this bold zigzag segment to put the emphasis on the two larger pieces of something special (FQ or 1/4 yard). These dancers create the accent in the zigzag and leave a great space to show off some additional decorative stitching if you choose. A small piece that is very dramatic.
Cha Cha Dinner
4 placemats 14" x 20"
Use just one zigzag segment for each placemat and create a bold look for your table. Skip the binding on the edges and use decorative scissors or decorative rotary blade to finish the edges for a quick and fun finish.
Line Dance
66" x 82" 8" blocks
Dance with stress free strips of all kinds in this lively piece. Choose 5 different strips, multiple bases and dancers and give the design wall a big workout. Your project is bound to be uniquely your own as there are many design options.
Contact us for more information.
Quilting Workshops from the book Quilts From The Dorm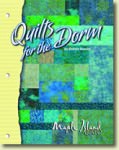 Have a fun day of stitching with any of the projects in Quilts for the Dorm. All quilts are suitable beginners and beyond. For your workshop using Quilts for the Dorm you may choose two projects to focus on. In addition to project instruction we'll also cover finishing ideas like new ideas for tying a quilt and have a binding review for those that are interested.
Contact us for more information.